Ordnance Corps
NIKE AJAX AND HERCULES
ORDNANCE SUPPORT UNIT
NEAT NIKE PICTURES

Air Defense Artillery
---
For those who served in Nike Units in Germany, the NATO Tac Eval Team of the Allied Air Forces Central Europe (AAFCE) were a familiar group. Below is a photo of the GAFTAC Team showing both the personnel for Hawk and Nike. They have been identified below the photograph by Capt. Horst Sperl.


Photos provided courtesy: Horst Sperl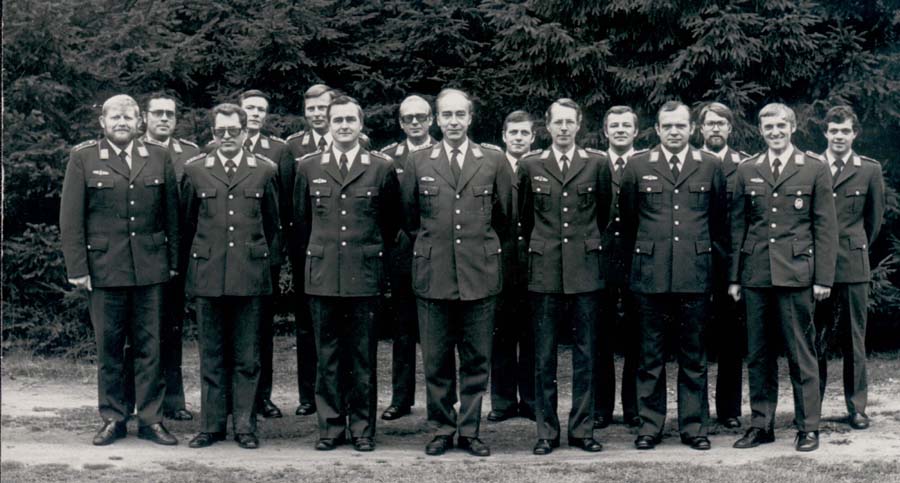 The GAFTAC TEAM
The picture was made between 1974 and 1978.
I am the man with beard in the front line. Horst Sperl, 1st Lt. NIKE
By the side of me with sun glasses, Capt. Dunkler, HAWK
Next to him LTC Müller, HAWK
Then, CoL. Reich, NAT REP.
Next to him, LTC Pletzing, NIKE
Then LTC Nocke, NIKE
The Man with the broad smile is Mj. Jakober, ATS
Second line behind me, the man with the glasses is LTC Braig, Log. EVAL.
Next to him, Capt Völkel, HAWK
Then, Mj. Finke, ATS, he died of Cancer
The man with the glasses next to him is Capt. Bast, NIKE
Him follows Capt Wiegmann, NIKE
Capt. Riese, COMO is the next
With the beard and glasses, that is second Lt. Höhne, HAWK
Last not least PFC Meffert, Clerk
Just for your knowledge, GAFTAC was stationed at Köln Wahn.
---
Email comments and/or suggestions about this web site to Doyle Piland at webmaster(at)nikeordnance(dot)com

Return to Previous Page.
Return to Home Page
Previous
Return to Home Page